Save and Share Templates in Cloud
Sections in this article
Share/Save Templates is a common feature in Xero, QuickBooks and Workflow Max.
A key benefit of shared templates is their re-usability and consistency. These templates allow development investments for one team to be reused and shared with another. This makes your work consistent and replicable across various teams and departments within your company, highlighting your company's reliability.
By using G-Accon for Xero, G-Accon for QuickBooks or G-Accon for WFM & XPM "save/share template" functionality, you can safely save your templates in Cloud, re-use them, share with your team and clients, and have the opportunity to focus more on global business tasks. You can also use other team's templates as the basis for your own templates because the system uniquely allows you to download various shared/saved templates and modify them.
How to Save your Template
To save the template in Cloud you need first create a template. You can create a template for query or for the report.
Let's create a template for the Purchase Order Details report. To create an accounting report from Xero you need to be logged in into Xero account. Then you need to select from the menu Add-ons -> G-Accon for Xero -> Standard Accounting Reports -> Purchase Order Details , set up all needed fields, filters, and google sheet settings from option #2. You also have an option to set up the update schedule for your spreadsheet and click on the "Execute" button to execute the report.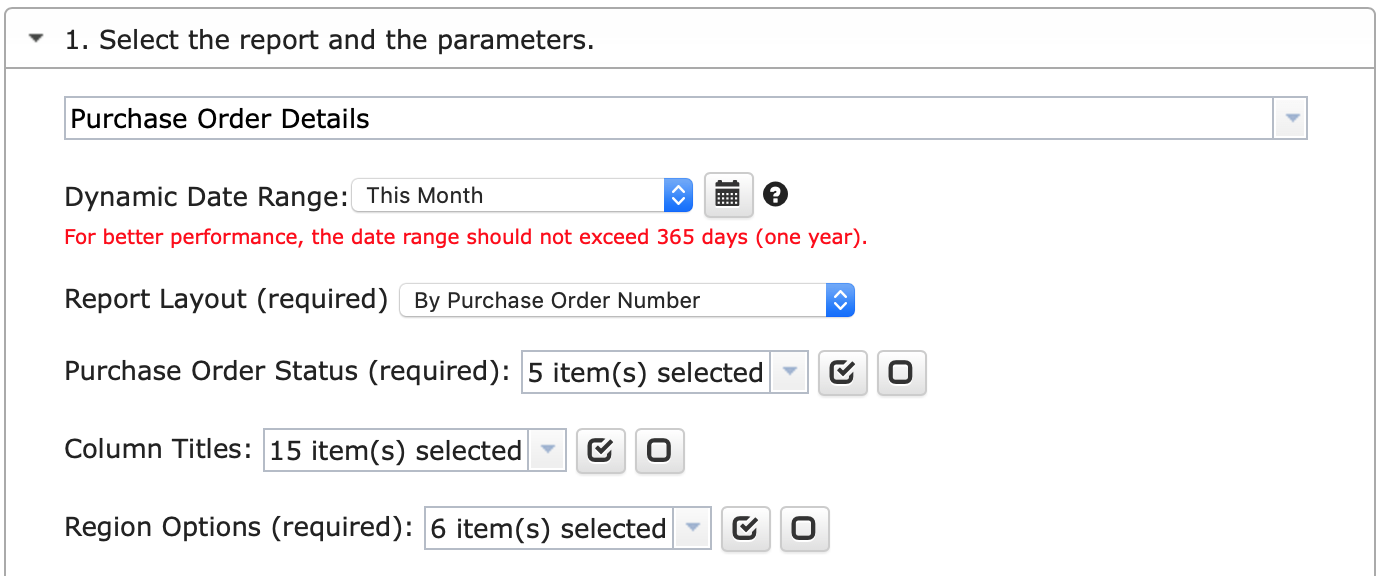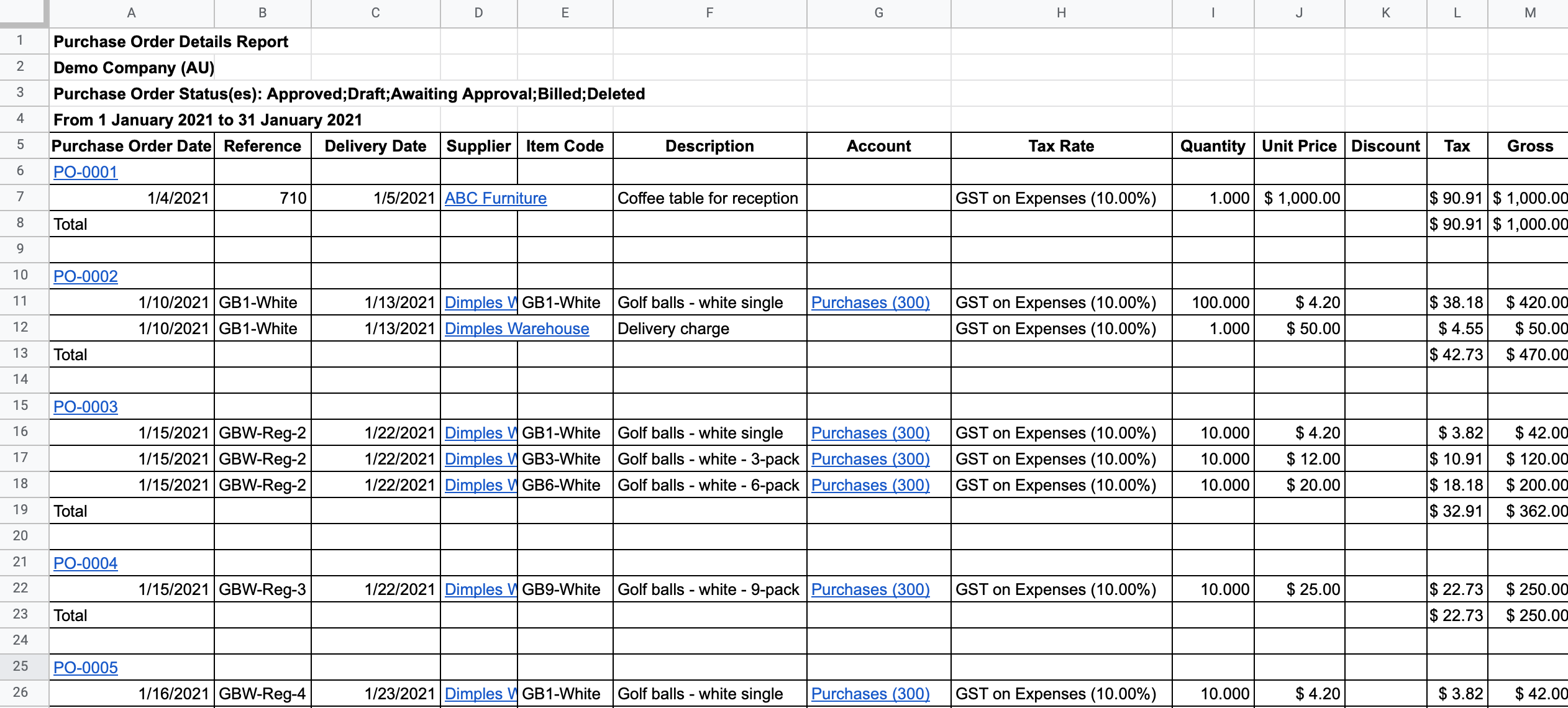 ---
Now you can save your templates in Cloud. You need to select Add-ons -> G-Accon for Xero -> Update/Modify/Delete Templates for Current Sheet and select the Cloud icon to save the template in Cloud. You can now enter the name of your template, the description and click on the "Save" button. Your template has been saved.


How to Load your Template
In order to load your template you need to select Add-ons -> G-Accon for Xero -> Load Saved Template from Cloud

You will see the screen with all saved templates. You have the ability to search for the template by keywords, you can narrow your search by selecting the type of the template (QUERY, REPORT, or UPLOAD) .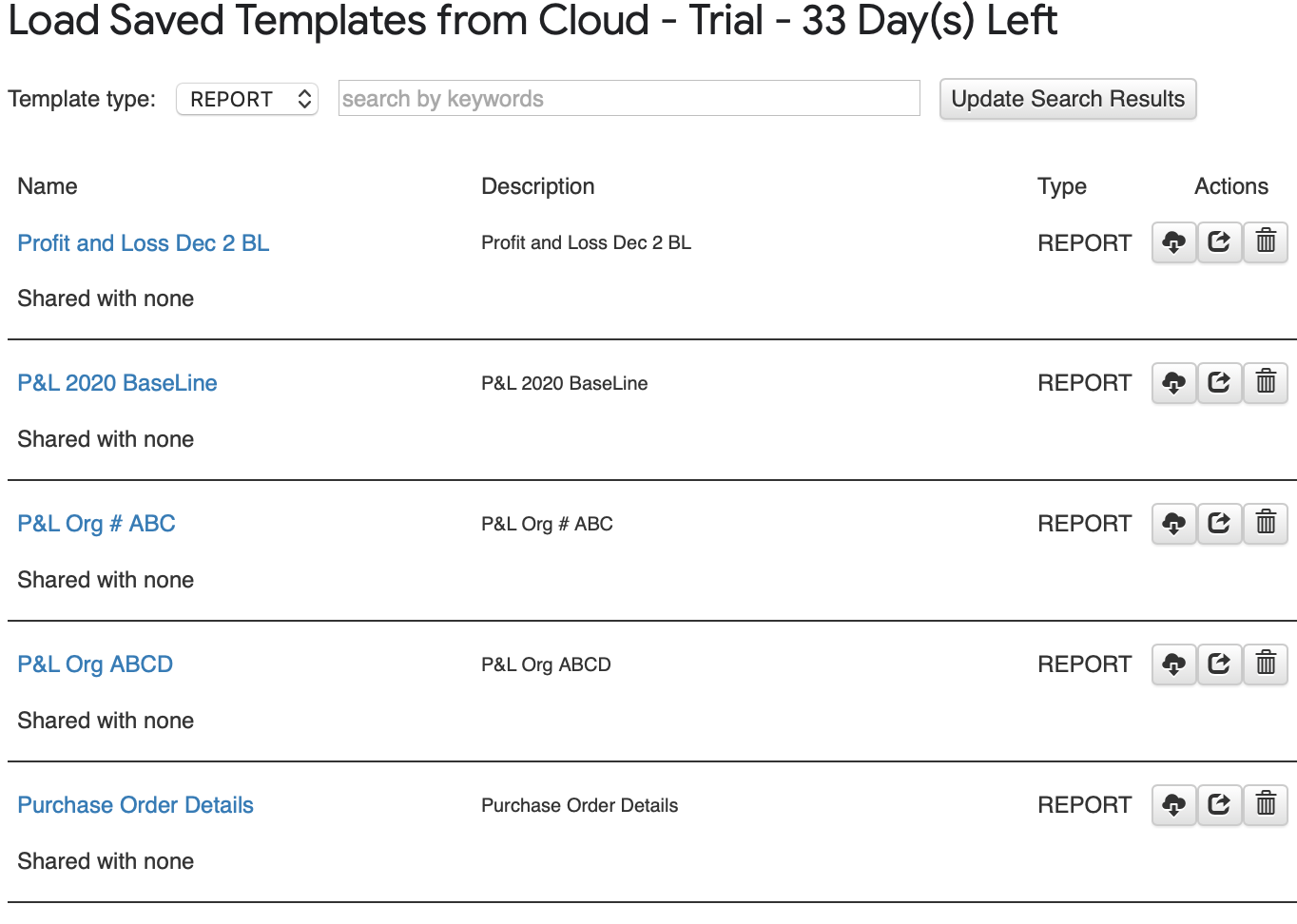 How to Share your Template
The there icons on the right side, will allow you to Load saved in Cloud template to your workspace, Share the template with your team and colleagues, and delete the template from Cloud.

To Load the template to your workspace you need to choose the first icon and the template will be loaded. After your template has been loaded in your workspace, you can execute it by clicking on the "Execute" button or modify it based on your business use case.
© G-Accon. All rights reserved.